In-Flight Connectivity SATCOM Forum Is Successfully Held
2019-05-21
Shanghai, China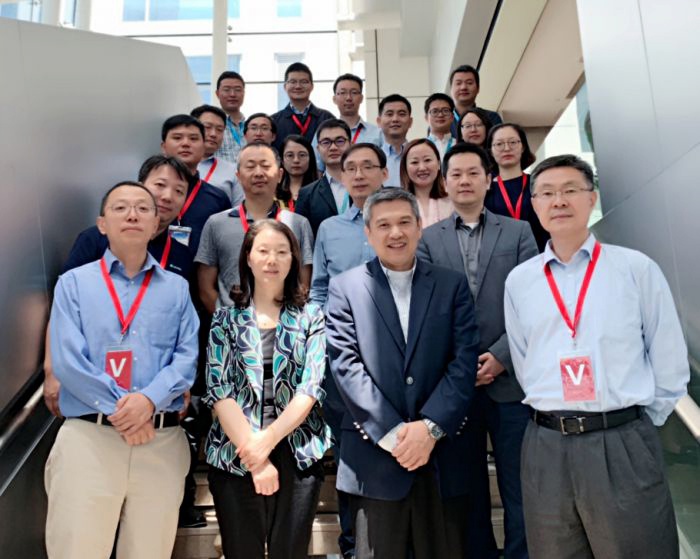 Since the launch of the open In-Flight Connectivity platform at Zhuhai Air Show in 2018, AVIAGE SYSTEMS has dedicated to develop domestic partners, extensively collect customer voices, and integrate In-flight connectivity products to our platform with the concept of "Open, All-connected and Localization". On 21st May, AIVAGE SYSTEMS successfully held an IFC SATCOM Forum at the Shanghai headquarters. Over 20 Experts from China Satcom, APSTAR, Unicom AirMedia, Satpro, and COMAC have participated in the technical seminar.
"As an integrator of civil avionics and a promoter of open IFC platform, AVIAGE SYSTEMS wants to help customers find the optimal IFC solution after fully understand their needs, and differentiation of various solutions," said George Chang, President & CEO of AVIAGE SYSTEMS, "Today we've invited lots of local suppliers to join our IFC platform, and to better serve Chinese customers is always our priority." At the meeting, experts from all sides conducted in-depth discussions on three major topics: Chinese satellite market development (Ku & Ka); how airlines select their satellite services; technology trend of SATCOM system.
At the end of the meeting, Mr. Haowei Bai, Chief Commercial Officer of AVIAGE SYSTEMS summarized "Making a strategic decision on an IFC solution is about understanding customer experience. IFC is an enabling infrastructure for future Digital Aviation. It is a key differentiator for Chinese aviation industry. AVIAGE SYSTEMS at the forefront of advancing onboard electronics technologies is committed to our partners and customers to make IFC a reality."
About Us
AVIAGE SYSTEMS is a 50/50 joint venture between General Electric Company (GE) and Aviation Industry Corporation of China (AVIC) .
Building on a historic partnership between two world-leading aerospace companies, AVIAGE SYSTEMS aims to elevate the future of flight by unleashing our world-class talent, cutting-edge innovation and powerful partnerships.