AVIAGE SYSTEMS and Boundary.AI signed MoU on Jointly developing AAM Avionics Suite and Flight Control System
2023-03-27
March 23, 2023, AVIAGE SYSTEMS and Boundary.AI signed the MoU on Joint development of AAM Avionics Suite and Flight Control System Solutions in Shenzhen. Two Companies intend to jointly develop airworthy, high-safety, cost-effective Avionics Suite and Flight Control System solutions for the AAM market, empower eVTOL OEMs realize commercial applications.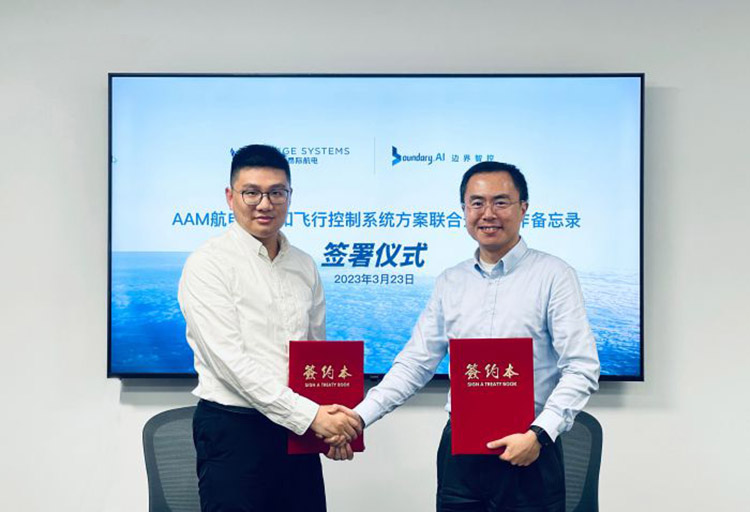 The Flight Control System and Avionics Suite are the key systems of the aircraft. For eVTOL models, both need to meet the airworthiness requirements, and face the challenges of light weight, low cost, and smart as well. To achieve this goal, the Flight Control System and Avionics Suite provider should cooperate more closely in the early phase of product development, providing OEMs with one-stop avionics system product selection, and helping customers complete models faster with lower trial and error costs research and development.
This strategic cooperation shows that two companies have reached full recognition and mutual trust in terms of professional capabilities, product routes, and airworthiness planning. Relying on its leading design and integration capabilities in the field of avionics systems, AVIAGE SYSTEMS is honored to work with Boundary.AI to develop AAM Flight Control Systems and Avionics Suite solutions to provide customers with safe and reliable supply chain guarantees , is committed to creating a safe, intelligent and green AAM transportation.

On the day of the signing, AVIAGE SYSTEMS and Boundary.AI also carried out in-depth exchanges on multiple technical fields and related promotions, and reached a preliminary consensus on relevant research directions, laying a solid foundation for the subsequent in-depth and multi-dimensional cooperation between the two parties.

About Us
AVIAGE SYSTEMS is a 50/50 joint venture between General Electric Company (GE) and Aviation Industry Corporation of China (AVIC) .
Building on a historic partnership between two world-leading aerospace companies, AVIAGE SYSTEMS aims to elevate the future of flight by unleashing our world-class talent, cutting-edge innovation and powerful partnerships.